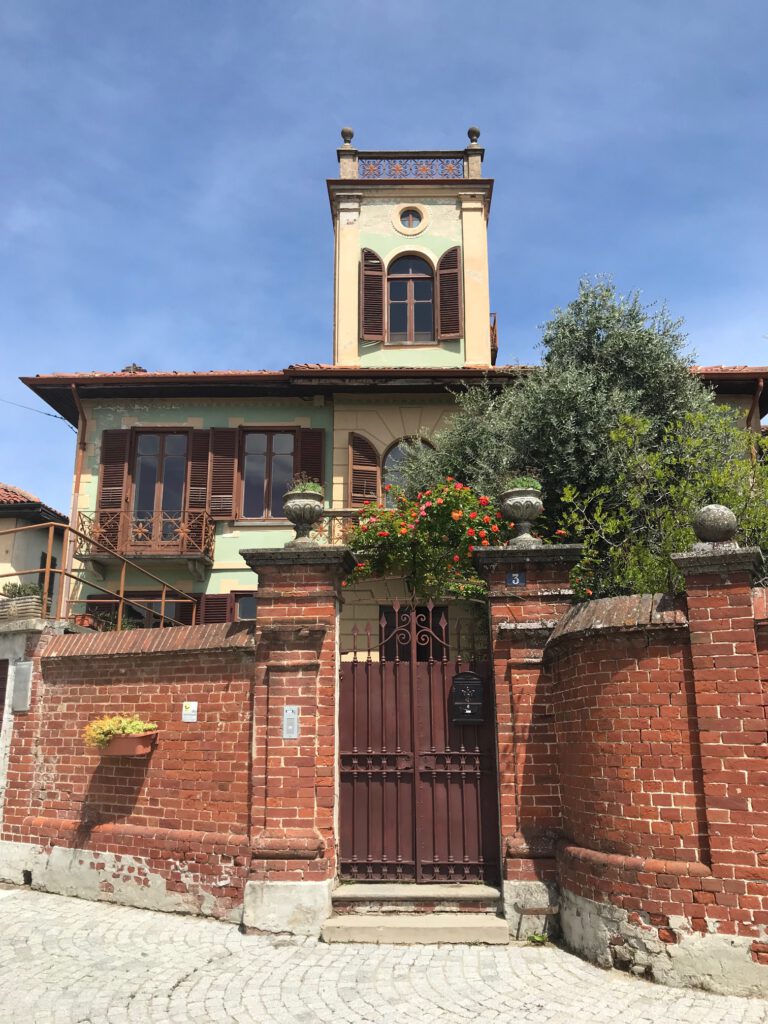 ---
The Villa Monferrato
stands on the highest square in Primeglio and overlooks the 17th century rectory next to the church. A front garden separates the property from the church square. A path leads to the small flight of stairs in front of the entrance to the Villa Monferrato. A high wall protects the cozy front garden from views of the church square. An ancient olive tree grows in the front garden to the church square, which provides shade in summer. From the front garden, the flat roof of a garage can be used as a terrace via a staircase.
Behind the house there is a wild garden that is laid out in terraces. Above that, a spacious brick terrace grants fantastic views over the Monferrato hills. The gaze wanders into infinity, with good visibility as far as the snow-capped Alps.
The house is entered through the stairwell. On the left is the living room with a marble fireplace and on the right the dining room with kitchen and billiards. There is a small toilet on the ground floor. At the end of the entrance hall, the large east-facing terrace offers a grandiose view.
A granite staircase gives access to the first floor. There are three bedrooms as well as the bathroom and an additional separate toilet. Each bedroom has a small balcony.
The building is crowned with a tower. The tower provides access to the second floor via the stairwell. From there a staircase leads to an outside staircase. The outside staircase ends on a viewing platform on top of the tower. The tower crown provides a breathtaking 360 degree view of the Montferrat area. On the tops of the sweet hills there are picturesque places with churches and castles. In the distance you can see the Don Bosco basilica and the Alps. Primeglio is part of the municipality of Passerano Marmorito in the province of Asti. Asti belongs to the Piedmont region, the most northwest of Italy.