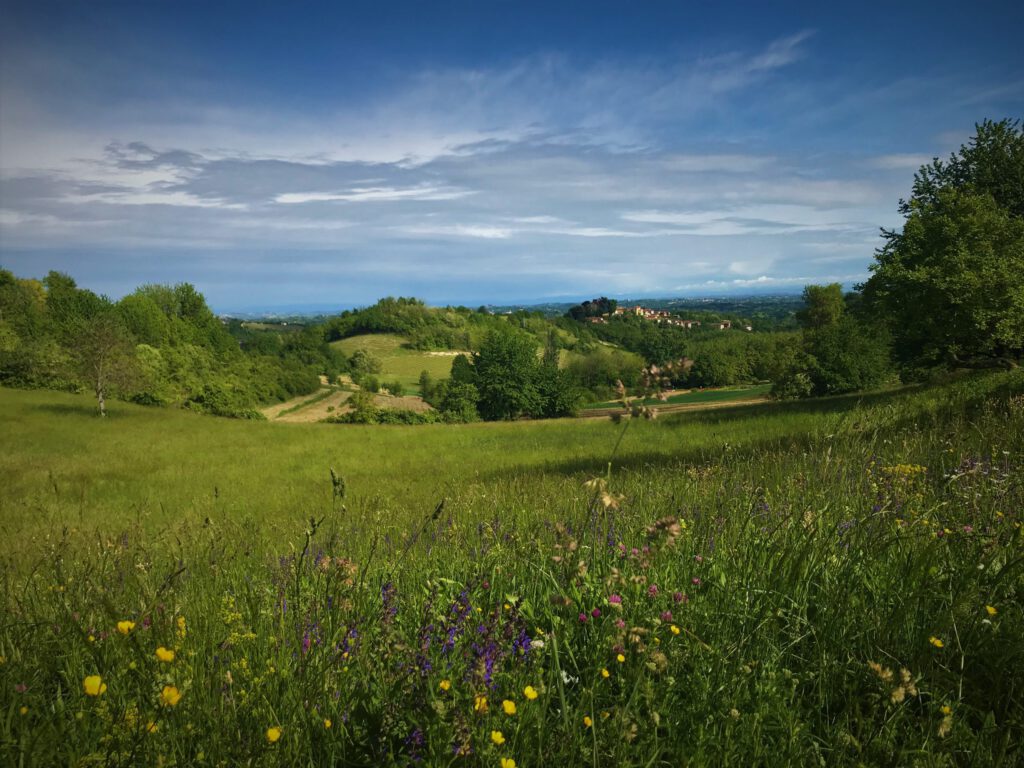 The Monferrato is a magical cultural landscape. Wine and good food have been cultivated here for centuries. Accordingly, it also stands for a guaranteed designation of origin (Denominazione di origine controllata – DOC) of Italian red or white wines from the area around Asti in Piedmont. The Monferrato is considered to be the origin of viticulture in Piedmont. The landscapes of the Monferrato, shaped by nature and man, belong together with the Langhe and Roero to the UNESCO World Heritage Site. The Monferrato enchants with a hilly landscape as far as the eye can see. Ancient villages and castles are enthroned on the tops of the hills. In between, the green pours out with trees, fields and a succession of gentle slopes planted with vines. The wonderful panorama seems to have sprung from a fairy tale. Time seems to stand still here and it is great to relax and hike.
The best regional food and homemade wines are just a few steps away at Le Rondini (reservation required). You can do your shopping in Castelnuovo don Bosco, about 6 km away. There are also other restaurants (e.g. Albergo Ristorante Ciocca, on Piazza Dante), petrol stations, a weekly market and a Terre dei Santi – Cantina del Freisa wine cellar. At the market square you can buy fresh vegetables from Primeglio (i frutti della terra – azienda agricola Cagliero, Piazza Dante, 61, 14022 Castelnuovo Don Bosco AT). At Magnone Via S. Giovanni, 65, 14022 Castelnuovo Don Bosco AT, Italy, you will find pretty much everything your heart desires. But there are also many small shops, bakeries and a butcher shop on and around Piazza Dante. The romantic Cascina Gilli, Via Nevissano 36, 14022 Castelnuovo Don Bosco, is recommended for a wine tasting and the finest wine in Monferrato.
Excursion destinations nearby are Albugnano (approx. 5 km), the so-called window of Monferratos with the Romanesque abbey, Abbazia di Vezzolano. In addition, Cocconato (approx. 10 km), where there is delicious food in the Cantina del Ponte and a lovingly tended village center.
If you like it a little more urban, you shouldn't miss Asti (approx. 30 km), the provincial capital and the birthplace of Paolo Conte. A must is Turin (Torino approx. 30 km). The capital of Piedmont inspires with a closed old town with baroque buildings, a dramatic location in front of the Alps and countless squares, palaces, churches and castles. The first capital of Italy and the former seat of the Savoy royal family is an insider tip among Italian cities – beautiful, clean and authentic. The traditional coffee houses make Vienna pale. A bicerin has to be there. In Via Roma the wallet is panting while shopping.
The Savoy royal family has built more than 20 residences in and around Turin. An excursion to the royal palace (Palazzo Reale) in Turin, the Palace of Venaria Reale (Reggia di Venaria Reale) in the municipality of the same name and the castle of Stupinigi (palazzina di caccia di Stupinigi) at the gates of Turin are worthwhile.
Also worth seeing is the famous Sacra di San Michele monastery, which served as a template for Umberto Eco's novel "The Name of the Rose". The abbey balances on an almost 1,000 m high rock needle in the Susa valley (approx. 80 km).
Those who want to go even further can take trips to Milan (approx. 150 km), Genoa (approx. 150 km) and the Aosta Valley (120 km). The northern Italian lakes beckon. In addition to Lake Maggiore (approx. 130 km), Lake Orta (approx. 130 km) in Piedmont is worth a journey of at least 1½ to 2 hours.
In winter there are numerous ski areas (e.g. Via Lattea – Sestriere – approx. 130 km), the mountains of which are ideal for hiking in summer.